USB 3.1 bis DVI Multi Display Adapter mit Typ C, Unterstützung für bis zu 6 zusätzliche USB Displays
Produktbeschreibung
Description
The Super-Speed USB3.0 Graphics Adapter provides a unique solution to add extra displays to a computer without using traditional graphics card. Users can instantly mirror or extend a desktop onto another display via standardDVI, such as LCD, CRT, projector and plasma displays. Besides, user can experience 1080P resolution . With USB interface plug-n-play and bus power feature, this product brings multi-monitor applications into the mainstream.
Features
•Add-on monitor, LCD or projector through USB3.0 Super-Speed (5 Gbps)
connectivity.
• Video: Supports Full HD 1080P video streaming.
•supports resolutions up to 2048 x 1152 @ 32bit color
•Low power consumption via USB Bus power supply .
•Supports desktop display mirror, extend mode
•Up to 6 USB3.0 graphic adapters to work simultaneously under WINDOWS.
•Standard and wide screen aspect ratios (4:3, 16:10, 16:9)
•Complies with VESA auto display identification
•Hot-swapping / Plug-n-Play of monitors without reconfiguration.
•Specialized for office using, home entertainment, and video playing.
•Supports Windows XP 32 bit, Windows Vista 32 and 64 bit, Windows 7 32 and 64 bit, Windows 8 32 and 64 bit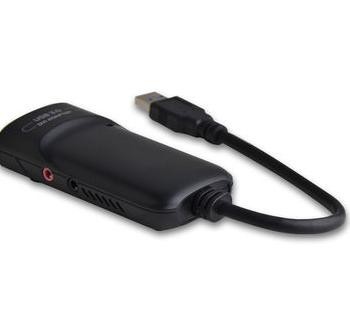 Produktgruppe : USB zu Ethernet